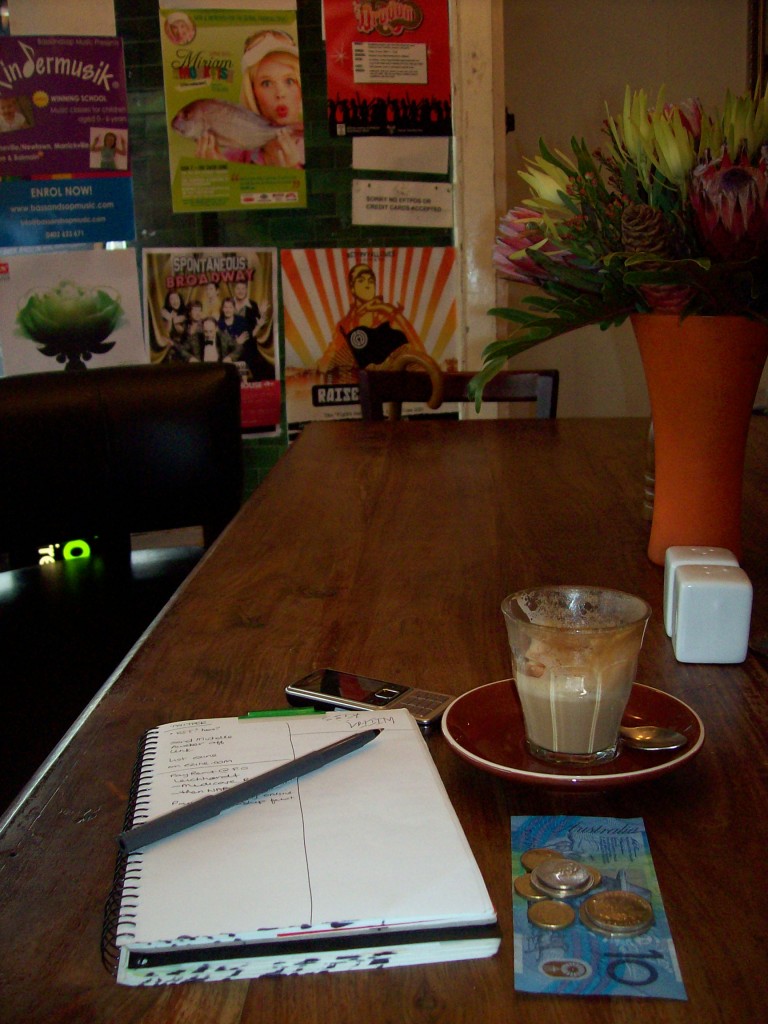 My favourite local café is Piccolo Padre café in Rozelle (a suburb of Sydney, Australia).
I hadn't been recently, so when I woke up this morning I knew exactly what I wanted to do, where I wanted to go, and what I wanted to have :-)
I headed up to Darling Street, Rozelle on the eastern side of Victoria Road, and I knew parking could be tricky as the weekend market is always a hive of activities … the search for parking is always a challenge.
I finally found a spot in one of the two free parking areas, collected my mail from my P.O. box, and stepped inside Piccolo Padre cafe.  Depending on the time of day and the mood of the staff, the music might be jumpin' or laid back, and the clientele tends to have the toddlers with them in the mornings rather than the afternoons.
I arrived around 10:30am, so your guess would be as good as mine as to what the mood would be inside. There were a couple of tables with little folk (under school age kids), and it sounded like there was plenty going on out in the back courtyard, so I opted to sit at the big table at the plateglass window and watch the world go by. I decided not to take the laptop today so I could have a break from technology :-)
John the Barista yelled out a hearty hello and what-have-you-been-up-to from behind the coffee machine, and commented that he hadn't seen me for a while. It's this friendliness (as well as the coffee) and the sense of community which keeps me coming back. It had been a few weeks since my last visit, and I'd missed the vibe. The aromas of coffee and cooking were wafting on the breeze on this gorgeous spring morning amid the hubub of happy conversations, and I was mighty hungry by now — I ordered the Big Breakfast (and requested "no baked beans" – that's just going a bit too far).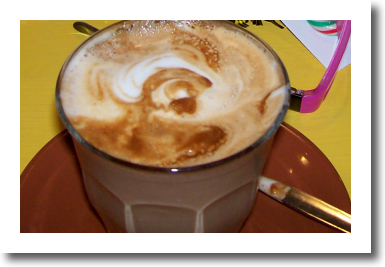 Before I even ask for it, John usually has a latte delivered to my table – just the way I like it – which adds to that special feeling of dropping in to your 'local'. I guess it's what blokes enjoy about visiting their 'local' – the pub – and the bar person knows their usual drink. Yes, I really like that feel-good feeling.
I savoured my latte and started reading a newspaper left on the table, grabbed the Travel section (I've got an eagle eye for spotting anything and everything about the city I love – Paris), and settled down amongst the plethora of cushions on the banquette seating at the big table.
Crowds came and went, as did latte #1 and #2, and the brekkie, and when I felt suitably relaxed and ready to face the world, I ambled out 2 hours later, knowing I wouldn't need to eat again until dinner time (and maybe not even then).
I love Sundays … sometimes I meet friends in my local cafés and sometimes I visit solo, every visit is a memorable event of some kind in my joy of experiencing and drinking coffee.
Have a fabulous week wherever you are! I know I'm going to  :-)
Ciao for now,
Teena!