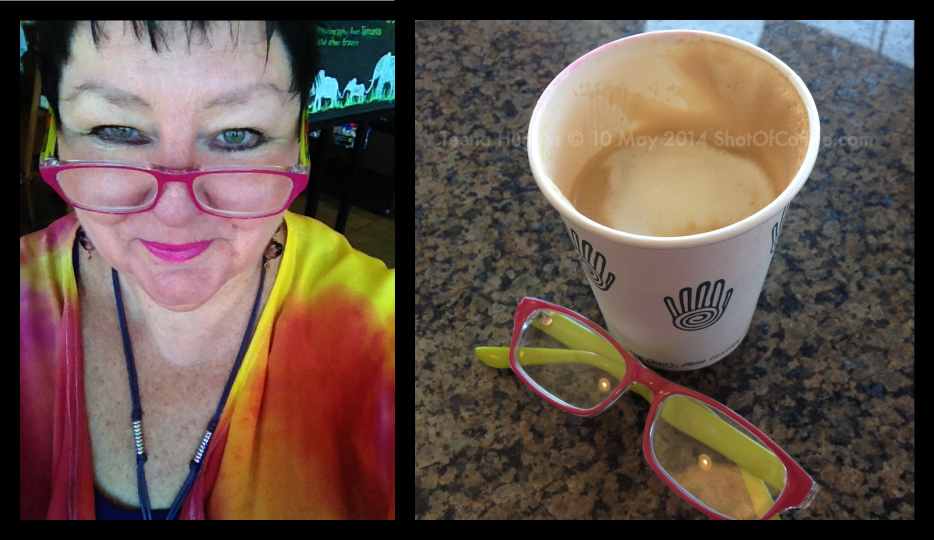 This morning I am meeting my friend Scott at Peet's Coffee in Montana Avenue (Brentwood, on the edge of Santa Monica, Los Angeles, USA).
I couldn't remember the exact last time I saw him, but I guessed it was about 15 years ago – so I was super pumped.
It has also been years since I had a Peet's coffee (the last time was when I working in San Francisco on secondment for 3 months), but I did remember I kept trying Peet's every day on the way to work until I worked out how much of their coffee would most taste like the Italian espresso lattes I was used to in Australia.
I needed three shots —  3 — that's right – a TRIPLE SHOT :-)
When I told my Californian friends they were in awe of me being able to handle that much coffee — and no they've never been to Sydney or Melbourne, so don't know that we are used to the best espresso from our Italians who brought the very first coffee espresso machine to Australia :-)
So today I chatted with the guy behind the counter and ordered a "triple" whilst crossing my fingers — at the same time hoping it would be perfect.
Note to self: stop looking for "perfect", just be happy with "pretty good"!
I've learned to always ask how far up the side of the cup or glass the coffee will come, and I'm constantly amazed at how LITTLE the actual coffee is (generally about 10-15% of the depth of the cup). I'm also surprised at how weak the coffee is in some places (not all, but many I've tried so far). It just doesn't have that thick, rich coffee flavour I'm so used to — it almost seems watered down. Add milk to fill 80% of the cup, and you've got one hot milky drink with a hint of coffee.  [I'm used to at least 30% thick strong espresso, and if I make it at home — 50%. Yes, caffeine must run in my veins :-) ]
It's Saturday morning and there are a lot of cyclists sitting out in the sun, their bikes resting up against the glass walls of the café, and it's great to see so many people enjoying themselves.
My mate Scott is cycling over from Calabasas, which is quite a distance!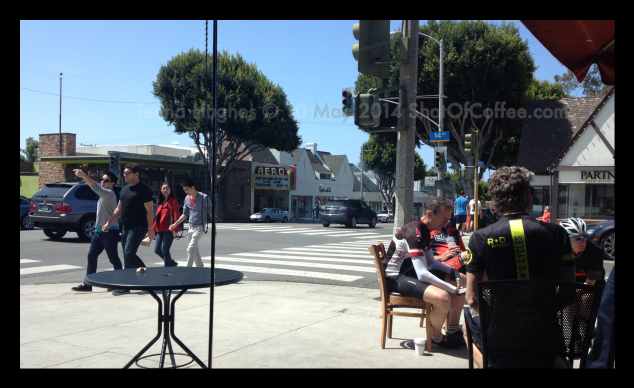 My Review of Peets Coffee in Brentwood
Staff friendly and attentive — YES
Triple Shot Latte Thick and creamy – YES
Tasty – YES
Strong enough for me – NO
Recommend it? – YES, absolutely!
 Map to Peets Coffee on Montana Avenue
1401 Montana Ave, Santa Monica, CA 90403
---