I live within walking distance of Metro Coffee, and have popped in about four times since they opened a few short months ago.
Today I walked over there and as always was warmly greeted by name by Zoe, which makes me feel very special. Bonus points Zoe!
If you've read any of my posts, you may find I'm a bit fuzzy fussy in my search for a delicious, thick and creamy strong latte, made with love by a Barista who cares.
Zoe's got to know my tastes and served up the perfect latte today, sheer joy after my few weeks in California (check out some of my recent posts — oy vay!).
For brekkie I decided to splash out knowing it would last me all day long, so I went with scrambled eggs, bacon and tomatoes with Turkish toast.
When the dish arrived, it LOOKED divine, and after the first mouthful of tomato with pesto paste, my tastebuds were doing the rhumba! Yum yum!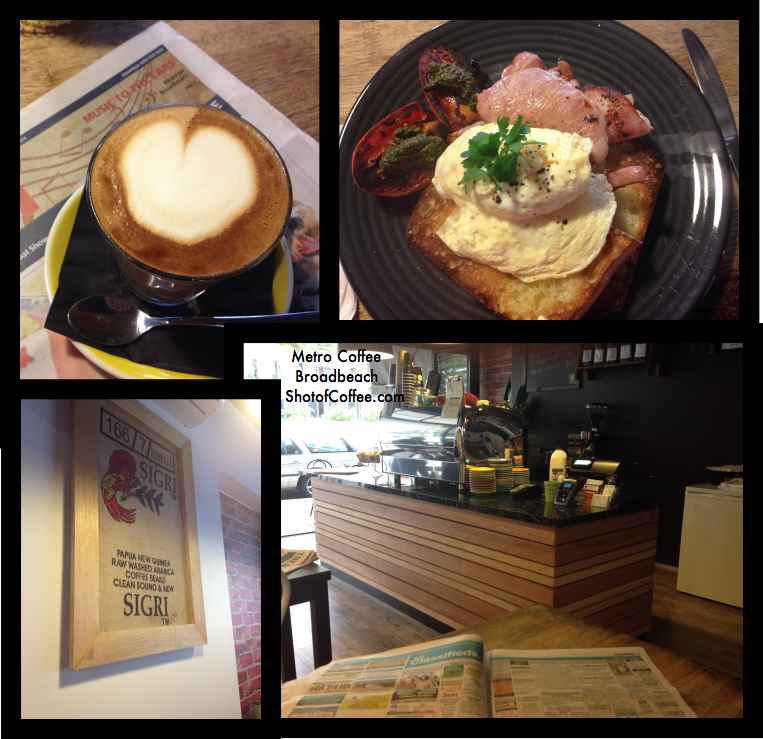 As I worked my may through my breakfast and coffee, every mouthful had me giving thanks to the coffee and food gods for this wonderful experience – I was in piggy heaven.
This was THE BEST BREAKFAST AND LATTE ON THE GOLD COAST since I arrived here almost 10 months ago, without a doubt.
If you haven't checked them out yet, do so sooooon — say hi to Zoe for me (Teena) and tell her you read about her café on my coffee blog :-)  She'll really like that!
Map to Metro Coffee Broadbeach
[mappress mapid="5″]
163 Surf Parade,
Broadbeach  QLD  4218