I've just heard about Dramanti Artisan Roaster
The frosted sliding glass door in a tiny alley at the end of Edith Street, Wynnum (the railway end) between buildings doesn't really indicate what's inside — the cafe-style umbrella outside only gave a slight indication :-)
Wow! When I walked in the door, I was blown away by this "hole in the wall" almost-secret cafe. The aromas and the music, the layout, the city cafe feel to the place — a real hidden gem in this beach-side suburb.
The feel is industrial, cement floor, wall of mesh (backed with large hessian coffee bags) has a multitude of plants and a few paintings hanging off it;  a couple of large maps adorn another wall.
I've been told this cafe is owned by brothers who roast all their beans on the premises.
This place has a very lived-in feel, a variety of tables, benches, chairs, a few magazines on a table, a desert/cake glass-fronted cabinet. A rarity — power points high up on the walls to plugin laptops and smart phones – excellent!
My first cafe latte here
TIP!  If you like your coffee HOT, you need to ask for that when you order.  The milk here is heated to a temperature which avoids burning, and which means it may not be as hot as you like.
As with all cafes I go to for the first time,  I tried their latte to see where to go with the next one I order.  The coffee cup was quite small, just a couple of mouthfulls, so I definitely did not need a double-shot.  I did however wish I had at least twice the amount of liquid in a cup or glass :-)
The coffee was not hot enough for me, so now I know I need to ask for extra hot next time.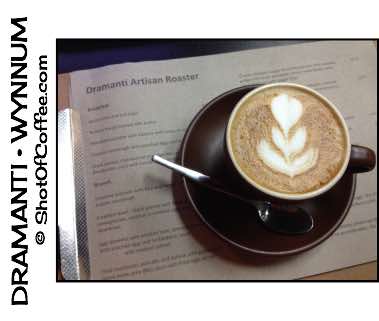 Price: I think it was $3.60  – tasted great, but too small for me. Next time I'll order a more normal size.
When I sat down at one of the few tables left, I noticed the menu so I had a quick read.  The bagel with chicken, avocado, tomato and mayo sounded quite good, so I ordered a rye one.  I cut it into quarters when it arrived, and the avo and mayo were oozing out invitingly around the outside of the bagel.  The taste was delicious! I highly recommend it!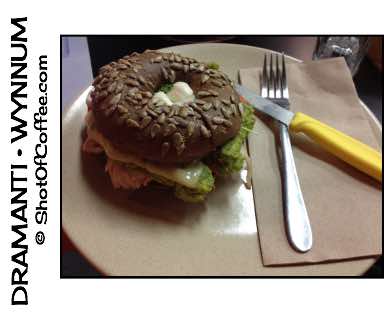 Price:  $9.00 — and quite filling!
All in all, an excellent find, a great new adventure — and definitely a place I'll be coming back to!
Dramanti Artisan Roaster
94 Tingal Road (turn into the lane directly across from Edith Street)
Wynnum Qld
http://dramanti.com.au
(07) 3108 8338