I've been living on a teeny tiny island off the east coast of Australia, about 45 minutes from Brisbane.
I've been wanting to check out some local cafes, artists, interesting stores etc, and decided on a whim to visit the suburb of Manly which I just heard about last week.
The drive was only about 30 minutes, but the scenery comfortably went from residential to Aussie bushland in seconds as I rounded each corner — it's so beautiful in this part of the world!  When I reached the main street of this little suburb (or town) it felt so quaint and gorgeous, and I slowed the car right down to drink in all the sights.  I only had an hour to spare today, so I'll come back here VERY soon and have a real adventure :-)
I decided to head to the shore about two streets away, and wanted to check it out before deciding on where to stop, and oh boy what a wonderful surprise! Fabulous water front, yachts bobbing right there, swimming pool and a marvellous park which seemed a couple of kilometres long.  There were quite a few cafes and eateries, and I chose one for today, knowing I'd be back to try out a few more :-)Isn't the view beautiful from the Cuttlefish Cafe??
Now don't be disappointed — are you ready for this?
I didn't have a coffee.
I know, I know, it's a shock, shocking even, but that's just how I felt today. I opted for icy cold water and drank about a gallon :-)

The staff were lovely, the cafe very nice indeed inside.
The menu looked pretty good, and I realised this is more of a Restaurant than a cafe, although people were sitting out the front just having coffees. If I lived close by, I could easily see this becoming a favourite place to hang out.
Oh — forgot to tell you! the name is CUTTLEFISH – I love that!
I didn't feel like a huge meal, so I chose a ham, cheese and tomato toasted sandwich – the best I've had for ages!! And a bargain at only $A8.00 — a little bowl of hot chips ("French fries") was $4.00, so a pretty inexpensive lunch.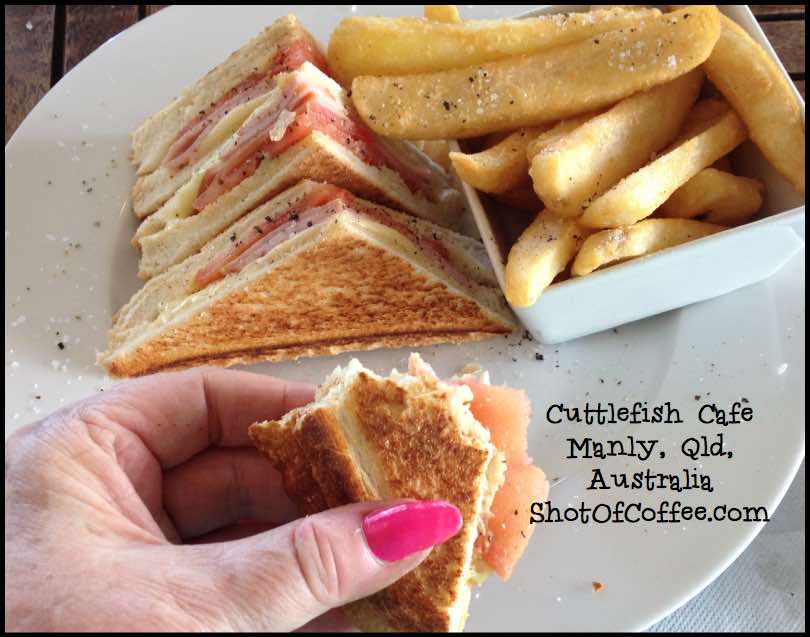 Today was the first time I'd been to this area, and I fell in love with it — I could easily see me living here (oh ohhh!). All the yachts, cute little village with cute shops, tons of cafes and restaurants — a terrific place to visit which is only 30 minutes drive for me through the wonderful Aussie bushland. Next week I'll be back to try out some other coffee shops — yum!
Check out the key to the restrooms:-)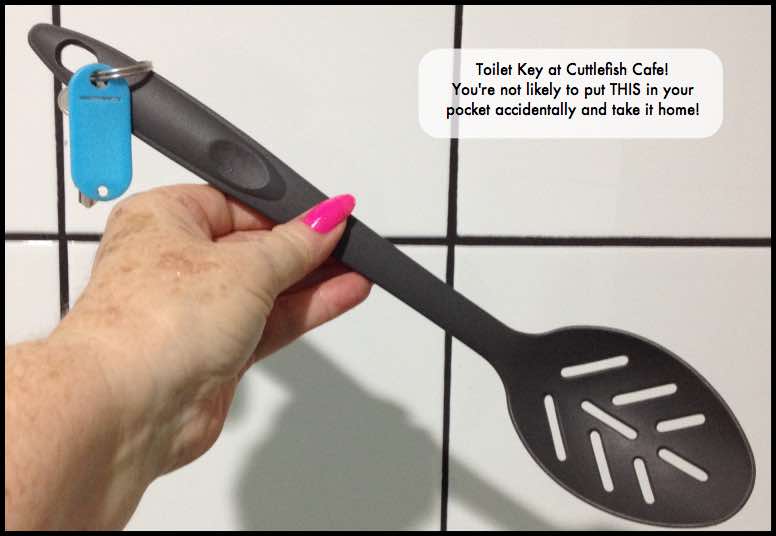 It's quite common in Australia for cafes and restaurants to have locked toilet facilities, but many folks probably put the keys in their pockets and forget to give them back. This is the LARGEST deterrent I've seen so far :-)
Map to Cuttlefish Cafe Restaurant in Manly
The Esplanade, corner of Cardigan Street, Manly, Queensland
[mappress mapid="8″]