Cambridge Lane Cafe in Manly Qld has a modest front door, with many patrons choosing to walk down the short laneway between buildings, where the cafe tables and chairs are filled all year round.

For me, this cafe has a feel of Sydney and Melbourne about it – bustling, noisy (in a good way), good vibe, great food and good coffee.
In winter (which has been delightful this year in June/July/August 2016), patrons are outside on grey wintery days (with heaters on if necessary) and on gorgeous sunny days, basking in the sunshine.
The cafe has recently changed their back room around a bit, bringing the cash register/ordering area closer to the front, and it's all good. The staff are always friendly and willing to help you work out what you need.
I ordered scrambled eggs on toast ($11), with a side of bacon ($5) which was served on a small plate with a dash of green salad and a little bowl of yummy tomato chutney.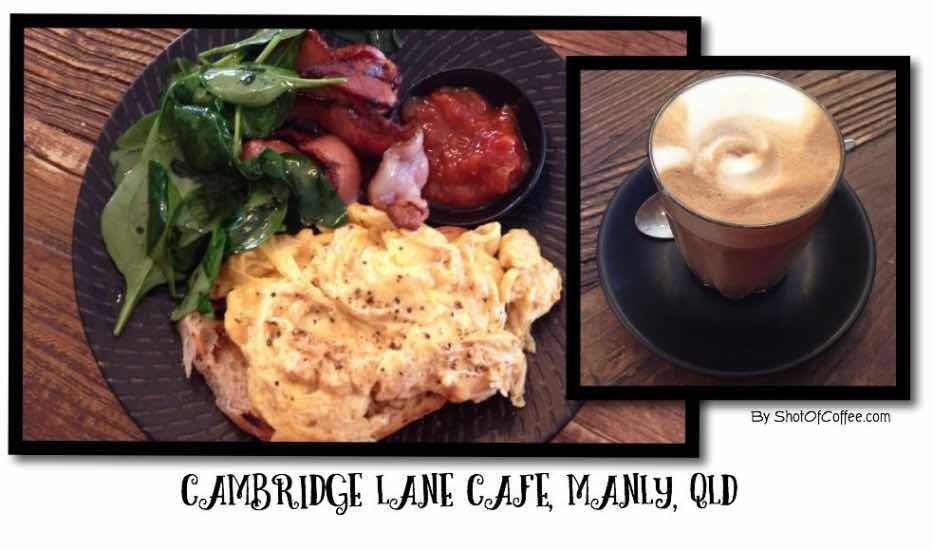 The Coffee
The coffee is good, even though it's not my favourite in this district. I usually get a double-shot latte, but after many visits I just can't get it to a point where I'm happy. That's not to say that you won't love it — many other people do, so certainly give it a shot (or two).
61 Cambridge Parade, Manly QLD 4179
Australia