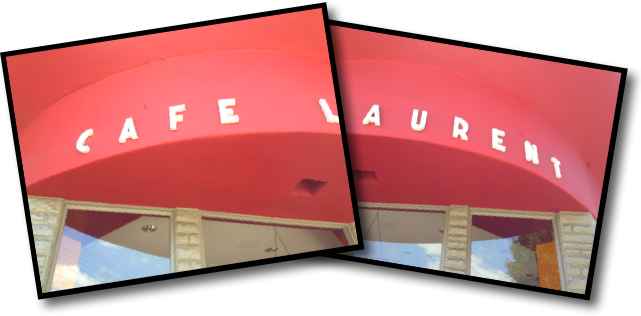 It's a beautiful day in Brentwood and my dear friend Gordon is taking me to Cafe Laurent in Culver City.  We haven't seen each other since I was in L.A. ten years ago so there's going to be LOTS of catching up and reminiscing!
The building had an art deco feel on the outside with the big curved corner displaying the café's name, and as we stepped inside I was thrilled to bits — French posters, French words on the Menu, a Frenchy feel about it – I loved it!
We strolled through out to the courtyard which was filled with cute tables, chairs and umbrellas, like a rainbow coloured ceiling above us.  Before too long we decided to move indoors, as it wasn't quite as warm as I would have liked.
Inside we settled near the main windows and I was unbelievably happy when I saw they used my fave brand of Italian coffee — La Vazza – bravissimo! Fantastique!
While we were poring over the yummy Frenchified menu, we nibbled on a deliciously gorgeous berry muffin — and the presentation was so cool!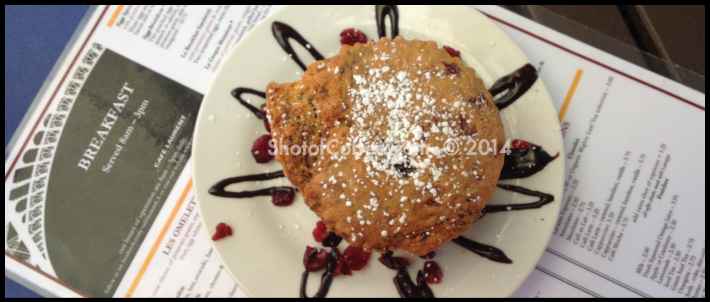 I tried not to hold onto too much hope for a good coffee, as I know I'm a bit fussy (hey, I know what I like!) so I chatted to the lovely lady who served us to find out how they make their lattes, and told her how I like mine.  When the coffee arrived in its steaming mug, it had a gorgeous heart design, a smiley face drawn in chocolate, and two real coffee beans – oh how cute!  It just goes to show that with a tiny teeny bit of effort, every cafe can make a statement to show they care about their customers.  I'm in love already :-)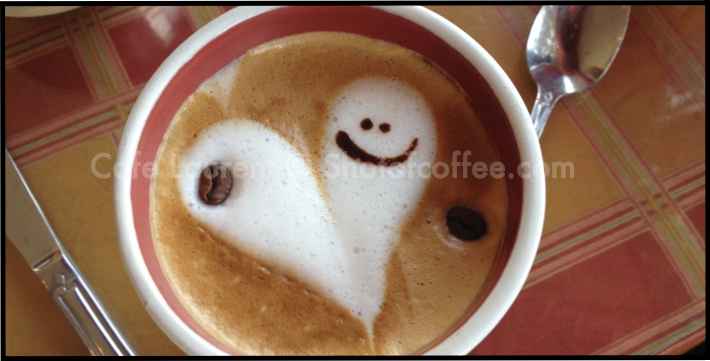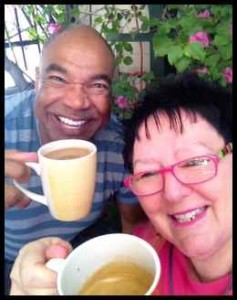 Of course the real test is the taste … sip … sip … and OMG I am so excited! This coffee actually tastes like COFFEE!  For the first time since I've been back in LA, I can TASTE the coffee (no more weasel p*ss watery weak stuff for me!)!
When the breakfasts arrive they look sooooo delicious — I had a ham and cheese omelette with potatoes which were so creamy they were almost like a thick custard.  When I took my first bite of the omelette my mouth was shocked into a totally unexpectedly wonderful taste sensation! Oh yummmm!  The meal was delicious and ended up being the most tasty and delightful meal I had during my few weeks in LA.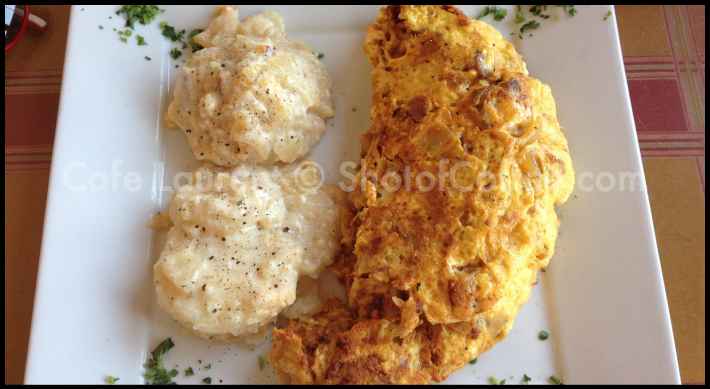 Gordon had the salmon crepe with fresh diced fruit salad and said it was delicious too, so all in all it was a tremendous breakfast (well, brunch really, as we were so full for the rest of the day!):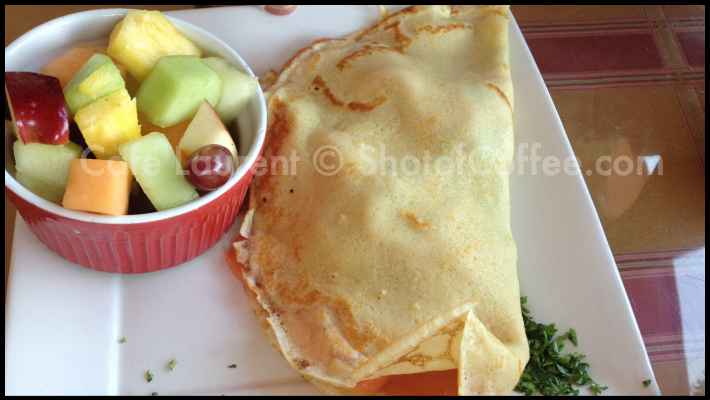 Here is the delightful Nicki VICKY who looked after us so well:
..
What better way to finish off a fabulous breakfast, than to have a yummy dessert to share? Check this out, my mouth is watering with the memory of this treat :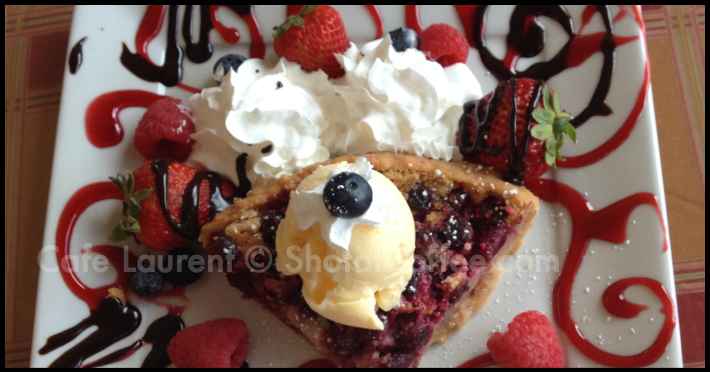 Map to Cafe Laurent
[mappress mapid="6″]
Address:  4243 Overland Ave, Culver City, CA 90230, United States
Phone:  (310) 558-8622  /  http://CafeLaurent.com
Read more about my coffee adventures in Los Angeles >>