Today I felt like having breakfast out, so I popped in to do a breakfast review of Ruby L'Otel Rozelle.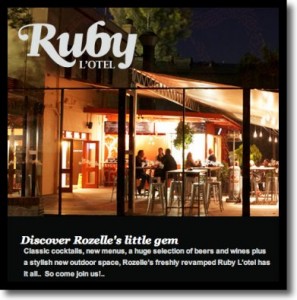 The renovations and the beer garden look great, and it was terrific to see a Barista behind the bar in the beer garden.
I ordered a latte, and breakfast – bacon & scrambled eggs ($10), tomatoes & mushrooms ($3 each).
I'll be honest, I tried this place for the first time last week, and thought I'd review it after the second visit to see if service and quality had changed.
The Barista is good at his job, knows everyone's name, chats with everyone and creates a lovely atmosphere, but this means the coffee takes longer than you'd expect when there are very few people there. I also found that if I asked for a "thick and creamy latte" (which is how it should always be) then I'd get exactly what I asked for. If I just asked for a "latte", it was not fabulous.
The waitress was very friendly, and the reindeer antlers added a nice touch in this week prior to Christmas.
I started reading the paper, and settled down to wait patiently for the latte, which was delicious and well-made when it evenutally arrived (over 10 minutes later).
Still reading the paper, I finished my latte, and started to wonder where my breakfast was as there were only 4 other people there when I came in the door, and most of them appeared to be eating. I tried to catch the waitress' eye, but she was sitting down having her own breakfast. I decided to give it a few more minutes before heading over to the open kitchen to see how my order was going.
In café terms, the wait was rather long (when there were so few people there), and just as I was thinking it was time to enquire, a bell rang in the kitchen and the waitress popped over to grab the food; some was delivered to another table, and the other was my breakfast.
The food was presented in a nice large white bowl, more suited to soup than a meal which requires a lot of knife and fork action, but that's not too much of a problem. Everything looked good, the scrambled eggs and tomato were hot to the touch (at this point I did think that half a small tomato for $3 was rather expensive), but alas the bacon and mushrooms were luke-warm.
I tilted the bowl slightly and to my dismay I saw the same thing I experienced last week – an amount of oil floating in the bowl which amounted to at least 4 to 5 teaspoons' worth. As the waitress was busy I decided to go ahead and eat the meal and just kept dodging the oil, and tried to keep the food on the sides of the bowl away from it.
Such a disappointing outcome, especially as I had witnessed this same thing last weekend, and had passed on my feedback to the chap who served me. The waiter agreed that all feedback was extremely important. Perhaps the feedback didn't reach the kitchen?
I packed up to leave and couldn't get the waitress's attention as she was serving new customers, so I walked the bowl over to the kitchen. The chef wasn't there, but two other chaps were cooking and looking rushed, so I didn't interrupt them. I waited a bit until I could speak with the waitress and explained what had happened, as on-the-spot feedback face-to-face is really a polite way to go. The waitress apologised and said she'd pass it on. So I told her that's what I was told last week when this happened, so something didn't get through to the kitchen.
My summary is that with a few very minor tweaks this could have been an excellent breakfast review of Ruby L'Otel Rozelle: remove the oil BEFORE delivering the plate to the customer, and make sure all food on the plate is hot at the same time, and you're on to a winner!
Providing the same excellent quality of coffee each and every time is also a must, which shows that the Barista cares about his coffee-making abilities and pleasing his customers 100% of the time.