This morning I visited a new café and did a breakfast review of Digikaf Café which is located in Glebe (in the inner west of Sydney, Australia).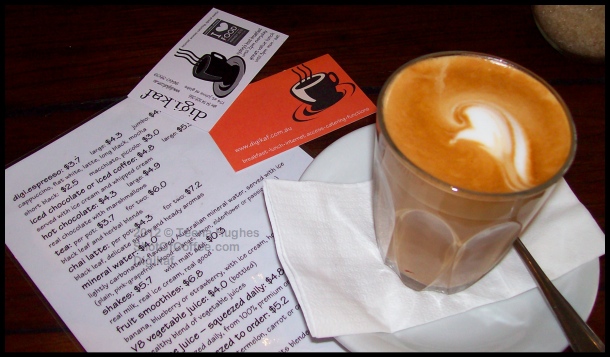 The large front room was empty when I arrived about 9:30am on a Saturday, but soon filled up with what sounded like long-term and local customers (always a good sign). Before anyone else arrived, I got to chat with the young Barista who told me they were one of the first to have "that internet stuff" (Wifi). We also talked about coffee and I admitted I was a bit of a snob/connoisseur and was looking forward to tasting his cafe latte. The Barista admitted that he knew what I meant when I said I'd like a thick and creamy latte – and – he delivered, quickly. Excellent start!
The Menu & Seating
I took my time reading the menu as this was my first visit, and there were all the usual breakfast options and some with some great names. I discovered there is another room up a few steps, plus an outside dining area. The room I was in had a fabulous large and colourful mosaic with a dog as the central character – the mosaic was on the wall behind the Barista and counter and added a lively and fun element to the ambiance. The waitress was lovely and very attentive, and as the morning wore on, other waitresses popped by to ask if everything was ok.
The Scrambled Eggs
The only issue I had was with the "3 eggs scrambled" on toast. The eggs hadn't quite finished cooking, and there was uncooked albumen (egg white) on the toast and plate which I found a bit off-putting. Other than that the eggs and mushrooms were hot, 2 thick slices of brown toast cut in half diagonally, and it tasted good. (I might have been tempted to use a sturdier type of bread, because the soft toast was hard to cut.) As I was leaving and paying my bill, I did tell the Barista about the eggs.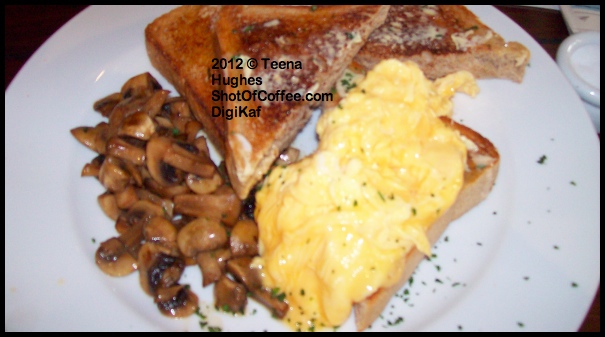 Mind-bending With The Fork
I was intrigued by the straight tines of the large fork, as I've never seen this before – forks I've used in the past (around the world) have all had slightly curved tines to help balance food on. Half way through the breakfast I realised that the forks were even more unusual – while I was pressing the fork into some toast as I tried to cut it, the fork BENT in half! Yikes! Was I the new Uri Geller, or suddenly filled with brute strength? Or was the material the fork was made of somehow 'soft'? I tried to get someone's attention, but in the end just bent it back and kept eating (I was hungry after all) :-)
So – my thoughts on this review of Digikaf? Overall it was a lovely experience, engaging staff, nice vibe. I'll be back :-)
Summary of Breakfast Review of Digikaf
http://digikaf.com.au
174 St John's Road, Glebe
Tel: (+61) 02-9660-3509
breakfast until 2pm every day.
Other coffee reviews can be found within this site.