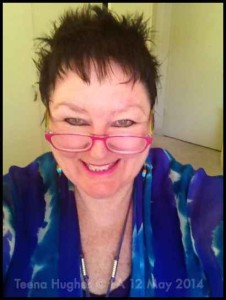 I finally got to see the Back on the Beach Cafe in Santa Monica on my second last day in L.A., which has a marvellous history Gordon has been telling me about. Nestled on the Annenberg Community Beach House site, the Cafe is a Green Business certified by the City of Santa Monica. PS — Dogs are not allowed on the site.
As we walked into the café I could see a glimpse of the ocean and the silky sand, peppered with jolly umbrellas and people enjoying their lunch.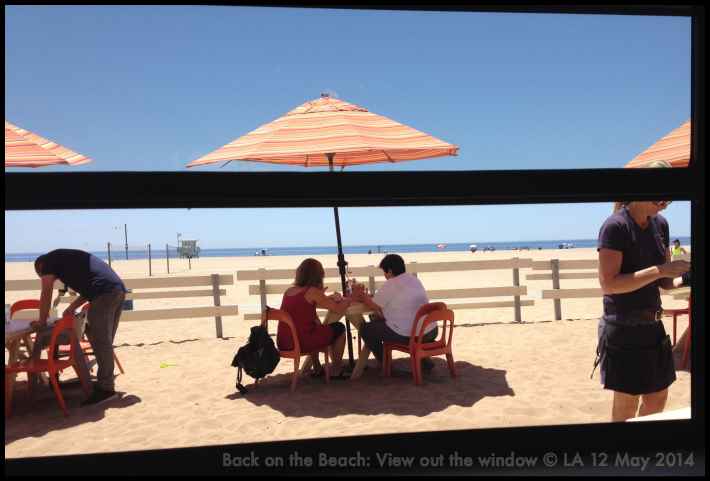 The view outside is of uninterrupted ocean, sky, beach, sand … and off in the distance is a mist-covered Catalina Island, which I love and will visit next time I'm in LA. Lunch arrives and Gordon's seafood salad looks delish!
My fish and chips look divine — and the special treat is sweet potato (Kumera) chips – yumm-o!
After our delicious lunch, we went for a walk around the Annenberg Community Beach House site – unfortunately we missed seeing inside the Guest House by about 10 minutes, so I'll add that to my list for 'next time'. All of the buildings were amazing, and as Gordon walked me through the story of the wealthy Annenberg family and their bequeath to the City of Santa Monica, I was fascinated to hear about it all.  The rebuild of some of the buildings has included some beautiful historical artefacts, and it's a beautiful place to spend some time to while away the hours far from the tourist crowds.
This view is from the Guest House looking towards the ocean – isn't it gorgeous?
Here is a little video I made as we walked around:
Map to Back on the Beach Cafe
[mappress mapid="7″] 445 Pacific Coast Hwy (aka Palisades Beach Road) Santa Monica, CA 90402, USA Phone:(310) 393-8282 http://www.backonthebeachcafe.com Read more about my coffee adventures in Los Angeles >>