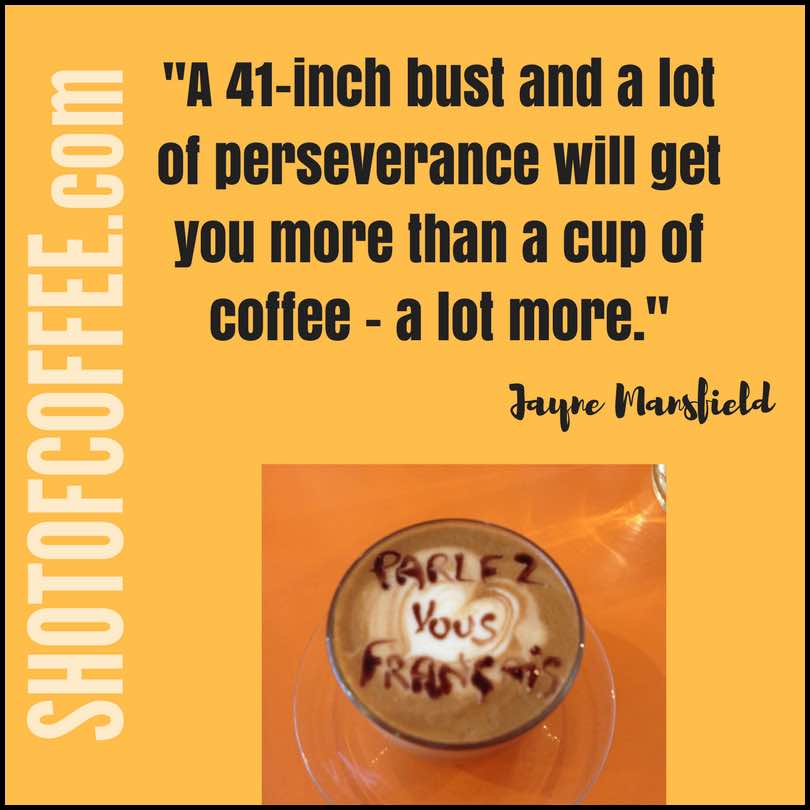 A 41 inch bust which Jayne Mansfield was famous for
And I'm sure she used it to her advantage :-)
I came across this quote today attributed to Jayne Mansfield, and I thought it was definitely worth sharing as a Coffee Quotation.
I haven't posted much recently as the part of Australia where I live has been experiencing weeks of the worst heat wave in over 150 years.  What that means is I rarely felt like a hot coffee, as I was mostly too exhausted to make it myself or to go to a local cafe (unless they had airconditioning, which is rare in most cafes in Australia, even the tropical areas).
A Barista friend of mine said he'd been making coffees slightly cooler than usual because of the excessive heat.
I've never seen so many friends suffering from exhaustion and lack of energy — it's been very wide spread and very hard to live with.
And then after a thunderstorm and rain last night, it IS slightly cooler today!
Relief! Yay! I'm feeling much better already :-)
Do you have any Coffee quotes you'd like to share? I'd love to hear them, even if they're in foreign languages :-)

Teena Hughes
Did you enjoy this coffee update?
Drop me a note in the Comments below, and let me know what YOU love about coffee — I look forward to hearing from you.
Other pages you might like: